Little Chick Adventure Books
Little Chick Adventure Books
Being a Coach, I'm made aware of many limiting beliefs that we carry as adults. Many of them embedded during our informative years.
My mission is to build resilience, self belief and confidence in little birds all over the world so they can grow into empowered adults and achieve their dreams.
For every book purchased, I donate a book to a child in another country so please know that you've not only empowered a child of your choice but also helped to empower children all over the world.
Little Chick Adventure Books
I'm so excited to share the first edition in my series of Little Bird Adventure Books. 'Little Chick has Lunch on the Moon' is my story of growing up but I know it's also a story you can relate to. I had many moments where people doubted me, didn't understand me or my capabilities. Many people tried to steal my dreams by enforcing their own limiting beliefs and personal views of what I should do or who I should be.
I now live in the country with my husband Kevin, my beautiful daughter Robyn and two dogs, Ollie and Marlo that make me laugh every day. I have a successful people development business and work within corporate organisations, education, charities and with individual clients. "Together, we remove the limiting beliefs they've picked up, many of them from growing up or from the routine of day to day adult life, so they can achieve their dreams too."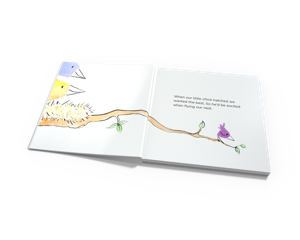 I love what I do and the path I've created. After all, who wouldn't love having lunch on the moon…
How many of us can say we've fulfilled our childhood dreams? This book is dedicated to helping our children believe in themselves and their dreams without limitations. My wish for you is that your children will keep this book and the magic it contains to help them hold onto their dreams. For them to look back at their lives as adults and say "I believed and I did…".
Recommended reading age 0 – 8 years old although the message translates across all age groups.
I have the pleasure of working with many people of all age groups in helping them to truly understand their power and achieve their own dreams. These gifts are constant reminders that being unique, trusting in our brilliance and having the courage to be heard are the best qualities we possess. Each of these gifts are also unique, just like the person purchasing them. My wish is that my gift to you brings daily happiness that ripples across the world.
Little Chicks' second adventure book is coming soon!
Little Chicks' second adventure book is coming soon!